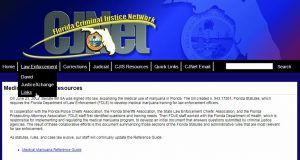 On June 23, 2017, Senate Bill 8A, expanding the medical use of marijuana in Florida and requiring the FDLE to develop training for law enforcement officers was signed into law.  In cooperation with FPCA, FSA, SLECA, and FPAA the Medical Marijuana Reference Guide was developed and is available on CJNET at http://www.flcjn.net/Medical-Marijuana-Resources.aspx
The recently released Medical Marijuana Reference Guide is available to all criminal justice agencies. FDLE staff will update the Reference Guide as new information is available.
Anyone who doesn't have access to CJNET can email Judd Butler for a copy.
Judd Butler
Training and Research Manager
Florida Department of Law Enforcement
Distance Learning & Publishing
juddbutler@fdle.state.fl.us
(850) 410-8654