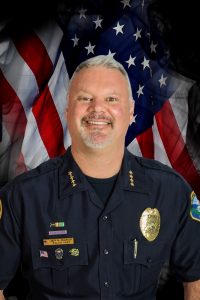 Jeff Pearson has been employed with the Satellite Beach Police Department since January 1987. On August 1, 2011, was promoted from Deputy Chief to Police Chief. Chief Pearson is responsible for all department operations such as the patrol division, criminal investigations division, records division, and evidence division, along with the police department's administration, operations, policies, and budget.
Chief Pearson started as a dispatch trainee and was hired as a full-time dispatcher in March 1987.  In 1988 he worked as the midnight shift dispatcher while attending the police academy during the day.  In April 1989, he was hired as a full-time police officer.  In 1990 he was transferred to detective division where he spent just under three years.  In 1993 Chief Pearson was promoted to corporal and assigned to road patrol.  In 1994 he was promoted to Sergeant.  In 2002 he was promoted to the position of Staff Sergeant.  In January of 2005, Chief Pearson was promoted to the position of Investigations Commander. Chief Pearson was responsible for the detective division, communications, and the school resource officers.
In January of 2006 Chief Pearson was fortunate enough to attend and graduate from the FBI National Academy in Quantico, Virginia (Session #224) where he took 5 masters level classes and earned the famed Yellow Brick.
In October of 2008, Chief Pearson was promoted to the position of Deputy Chief where he was responsible for the Field Training Officer Program, Motorcycle Unit, Selective Traffic Enforcement Unit, and the DUI enforcement program, Budgeting, Evidence, and Records.
Chief Pearson moved to Brevard County from Rochester, New York in 1979.  He attended Satellite High School and graduated with an Associate's Degree from Brevard Community College in 1990.  In 2003 he graduated from The University of Central Florida with a Bachelor's degree in Criminal Justice with a minor in Psychology.  In December 2006, Chief Pearson graduated from Webster University with a Master's Degree in Public Administration. He has a wife, Janet and two daughters Dallas (24) and Samantha (16).
In 2007 Chief Pearson distinguished himself regarding his leadership abilities and community service by being nominated and being selected as one of Lead Brevard's "4 under 40" winners. This award is presented to the four young professionals in the county who show outstanding leadership qualities and strong community involvement.
Satellite Beach Police Department
Phone:  (321) 773-4400