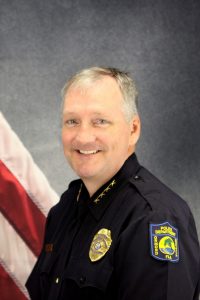 Robert "Jesse" Godfrey has been the Chief of Police for the Ormond Beach Police Department since 2016. Over the past thirty-three years, Jesse served as an Ormond Beach Police Officer for a little over a year in the late 1980's before going to work for Daytona Beach Police Department where he retired after 21 years as a lieutenant serving in the Patrol Division. He re-joined the Ormond Beach Police Department in 2011 as a lieutenant.
Prior to becoming a Police Officer, Jesse served in the United States Army while assigned to the 82nd Airborne Division as a helicopter mechanic. After leaving active duty, he joined the Florida Army National Guard as an Air Defense Artillery Squad Leader until 1993.
Jesse is married and they have two children. Jesse bought his first home in Ormond Beach and has lived in the City for the past 27 years.
Jesse has his Masters in Public Administration from the University of Central Florida and is a graduate of the FBI National Academy. He is a past president of the Volusia-Flagler Police Chiefs Association. He is involved in the Police Unity Tour as a rider and has completed seven tours.
Ormond Beach Police Department
Phone: (386) 676-3525
COUNTIES: Flagler, Volusia