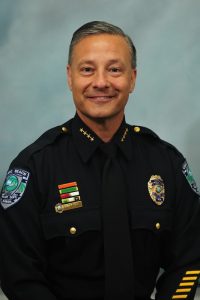 Chief Currey started his law enforcement career in 1990 as a police officer with the Vero Beach Police Department, where he has worked his way up through the ranks.  During his career he has worked in the Patrol Division, Detective Division, and Administration.  In September 2005, he was promoted to Deputy Chief of Police.  On November 4, 2011, he was appointed Interim Chief of Police, and on March 25, 2012 he was appointed Chief of Police.
Chief Currey has a Bachelors Degree in Criminal Justice from Stockton University in New Jersey, and a Masters Degree in Public Administration from Florida Atlantic University.  He is also a graduate of the Southern Police Institute Administrative Officers Course in Louisville, Kentucky.
Chief Currey has been on the Florida Police Chief's Board of Directors since 2014, and a Commissioner for Florida Law Enforcement Accreditation since 2018.
He is a member of the International Association of Chiefs of Police, Florida Police Chiefs Association, FBI Law Enforcement Executive Development Association, and Pi Alpha Alpha, which is the National Honor Society for Public Affairs and Administration.
He is married to Melanie and has three children, Kennedy, Karley and Kyle.