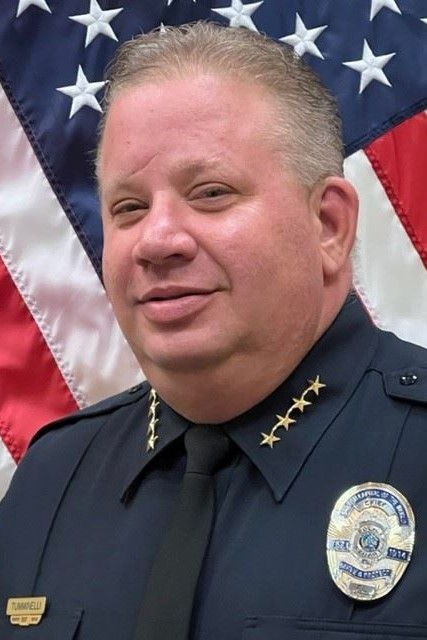 Chief Joseph "Tummo" Tumminelli is a highly skilled police chief known for his outstanding interpersonal abilities and capacity to strengthen community policing perspectives and develop exceptional employees. He has extensive experience in special response operations, criminal investigations, and crime prevention activities and is committed to conducting himself ethically and respectfully, serving as an exemplary leader in his department.
Since October 2018, Chief Tumminelli has been the Chief of Police at the City of Stuart Police Department, where he has played a critical role in fostering innovative ideologies that promote community relations while providing innovative protection to citizens from criminal elements. During his service as Chief of Police, the agency achieved Florida Excelsior accredited status, the highest level of accreditation excellence in the State of Florida.
Before he was appointed Chief of Police, he served as the Interim Chief of Police at the City of Stuart Police Department and the Division Commander (Captain) from 2014 to 2018, overseeing all policing functions in the Support and Operations Divisions. He has 28 ½ years of law enforcement experience.
Chief Tumminelli holds a Master's Degree in Business Administration (M.B.A) and a Bachelor's Degree in Criminal Justice Administration (B.S.) in addition to an Associate's Degree in Criminal Justice Academy Track (A.S.). He has completed several executive training courses, including the 143rd Administrative Officers Course (AOC) from the Southern Police Institute (SPI)- University of Louisville (2020), the FBI-LEEDA Trilogy on Supervision, Administration, and Executive Leadership (2007-2020), and the Command Officers Development (CODC) from the Southern Police Institute (SPI). He has also completed over 4,000 hours of law enforcement training in all disciplines.
Chief Tumminelli is an active member of several professional associations, including the Treasure Coast Police Chiefs and Sheriffs Association (TCCPSA), Florida Police Chiefs Association (FPCA), International Association of Chiefs of Police (IACP), and serves as a United Way of Martin County Executive Board Member. He enjoys a notable reputation from his community he serves for his leadership abilities and remains dedicated to formulating inventive strategies through training, policy adaptation, and assertive leadership.
Stuart Police Department 
Phone: (772) 220-3909
COUNTIES: Indian River, Martin, Okeechobee & St. Lucie