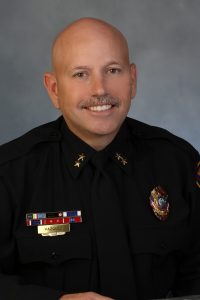 Charlie began his Law Enforcement career in 1993 as a Dispatcher for the Houston (Texas) Police Department. In 1995, he was sworn in as a Police Officer and served for the next 22 years with HPD earning the ranks Sergeant, Lieutenant, and Captain before being appointed to Assistant Chief in 2013.
His various assignments included multiple patrol divisions, Jail Division, Special Operations Division, Vice Division, Night Commander, and Property Division. His final assignment at HPD, as Assistant Chief, was overseeing the Professional Development Command, which included the Training Division, Recruiting Division, Employee Services Division, Inspections Division and Psychological Services Division.
Charlie has earned numerous awards for his police service including 100 Club Officer of the Year, Humble Area Chamber of Commerce Officer of the Year, twelve Chief Commendations, a Lifesaving Award, 32 Supervisor Commendations and numerous citizen letters.
Charlie retired from the Houston Police Department in June of 2017 and has since served as the Director of Public Safety and Security and Chief of Police for the Tampa International Airport Police Department. He is the Immediate Past President of the Tampa Bay Area Chiefs of Police Association (after serving two years as President) and serves on the Board of the Florida Police Chiefs Association as a Director.
Charlie is a graduate of Mountain State University where he earned his BA Degree with Honors in Organizational Leadership. He also holds a MBA Degree with Honors from Texas Woman's University. He is a graduate of the FBI National Academy Session 252, Senior Management Institute for Police Session 58, and Police Executive Leadership Institute, Session 4, and FDLE Command Executive Seminar, Class 54.
Prior to his law enforcement career, Charlie served in the United States Army for eight years as an Air Traffic Controller where he attained the rank of sergeant. His military service included a combat tour in Operation Desert Shield and Desert Storm.
Charlie is married to his wife of 34 years, Liz.  Charlie is an avid cyclist and runner, having completed more than 50 marathons.
Tampa International Airport Police Department
Phone: (813) 870-8764
COUNTIES: Hillsborough, Polk