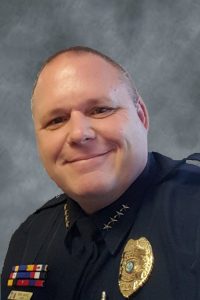 Chief Rob Hicks has over 30 years of progressive law enforcement experience; proudly serving the citizens of the City of Leesburg and the Leesburg Police Department for the past 25 years.  He has held almost every rank and duty assignment within the department prior to being appointed Chief in 2014. He is also a proud veteran of the United States Army, having participated in several multi-national operations, including the Gulf War in Iraq and Kuwait. He is married with three children ranging from 15 to 21 years of age.
Rob holds a Masters of Business/Public Administration, a Bachelor of Arts in Organizational Management, and Associate of Science in Criminal Justice.  He is a graduate of the Federal Bureau of Investigation's National Academy (Session #270).  Additional executive leadership education includes; the Southern Police Institute's Administrative Officers Course (Class #116) at the University of Louisville, The State of Florida's Certified Public Manager Program and the 49th Session of the Chief Executive Seminar at the Florida Criminal Justice Institute in Tallahassee. In addition to being a lifelong learner, Rob is committed to the mentoring and development of future leaders.  His scholarly pursuits have afforded him the opportunity of adjunct professorship of Criminal Justice Administration and Organizational Management.
Chief Hicks serves by Gubernatorial appointment as a member of the State of Florida's Violent Crime and Drug Control Commission. As the District 14 Director of the Florida Police Chief's Association and current President of the West Central Florida Police Chief's Association, Chief Hicks is involved with public safety and leadership programs throughout the State of Florida.
Leesburg Police Department
Phone: (352) 728-9860
COUNTIES: Citrus, Lake, Hernando, Sumter