Chief Bryan S. Dorman began his law enforcement career with the Bartow Police Department 24 years ago.  Chief Dorman served many years in the patrol section where his primary responsibilities were traffic homicide investigations.  In 2006, Chief Dorman was promoted to Corporal and later to Sergeant where he assumed supervisory responsibilities of a patrol squad and later the Community Services Team (CST). Chief Dorman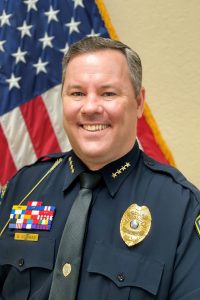 is a High Liability Police Instructor, specializing in defensive tactics and use of force.  He continues to mentor Bartow Police Instructors to this day.
In 2017, Chief Dorman was promoted to the rank of Deputy Chief of Police which carried a host of responsibilities which includes managing the following Police Sections: Patrol, Investigations, Records, Fiscal and the Telecommunications Center.
Chief Dorman, a lifelong resident of Polk County, served as Interim Chief of Police, following the retirement of the previous Chief in May 2020. He was appointed to fill the position of Chief in November 2021.
Chief Dorman attended Polk Community College where he obtained his Police Standards in 1998. He holds a bachelor's degree in Business and Criminal Justice from the University of South Florida and a Master of Business Administration and Criminal Justice Management from Webber International University. In addition to several instructor and supervisory courses, Chief Dorman is a graduate of the Certified Public Manager Program at Florida State University, the Florida Criminal Justice Executive Institute's Chief Executive Seminar, and the Bartow Chamber of Commerce's Leadership Bartow Class XVII.  He currently serves as the Vice-President of the Polk County Police Chief's Association.
Chief Dorman is very active in the community as a member of the Kiwanis Club of Bartow and through his volunteer work with local sports clubs.  Chief Dorman met his wife Melinda while they both attended the police academy and they have been married for 22 years.  They have three teenage children.
Bartow Police Department
Phone: (863) 534-5034
COUNTIES: Hillsborough, Polk