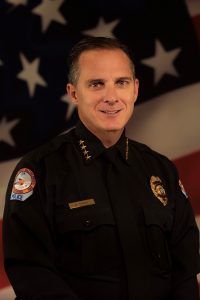 Robert Bage was born and raised in Miami, FL.  After graduating from North Miami Senior high school in 1994, he enlisted in the United States Navy for three years and then joined the United States Border Patrol for a year. However, he missed his hometown and left the Border Patrol for the North Miami Police Department. He worked at the North Miami Police Department from 1999 until 2019. During his tenure at the North Miami Police Department, he obtained the rank of Assistant Chief and worked in various units spanning all aspects of law enforcement, but he spent most of his career in Community Policing. He also served as the elected chair of the Police Pension Board and as a Union Representative.
During his time at the North Miami Police Department, he obtained his Bachelor's Degree from Florida International University in Psychology and his Master's degree from Barry University in Public Administration. Additionally, he attended the FBI National Academy (session 248), the Police Executive Research Forum's (PERF) Senior Management Institute of Policing (SMIP), and the Florida Criminal Justice Executive Institute's Chief Executive Seminar.
In 2019, he was selected as the Chief of Police for the City of Fort Walton Beach and has grown the department by adding a traffic and community policing unit. He also serves as the President of the First Judicial Law Enforcement Association and as the Florida Police Chiefs Associations' District 10 Representative.
Ft. Walton Beach Police Department
Phone: (850) 833-9547
COUNTIES: Escambia, Santa Rosa, Bay, Okaloosa, Walton, Gulf, Holmes, Washington, Liberty, Calhoun, Franklin, Jackson