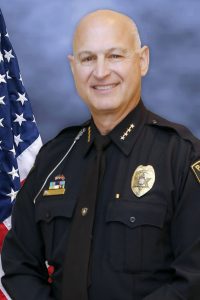 Chief Keith M. Touchberry began his law enforcement career in 1989 after serving six and one-half years on active duty in the Marine Corps Infantry field. Prior to that, he served for 18 months in the Army Reserve. He was hired by the Vero Beach Police Department in May of 1989 and for just over 24 years served in a variety of operational and support positions until retiring in 2013 as a Captain to become the Chief of Police for the Fellsmere Police Department.
Chief Touchberry's positions included uniform patrol, K-9 officer, K-9 team trainer, SWAT officer, uniform corporal and uniform and detective sergeant. As a command level officer, he served in numerous capacities such as training coordinator, CFA Accreditation Manager and Assessor, range administrator, operations bureau commander and support services bureau commander,
Chief Touchberry has a Master of Science Degree in Criminal Justice from the University of Central Florida. He is also a graduate of the Southern Police Institute's 108th Administrative Officers Course at the University of Louisville, the Florida Police Chief's Associations' "Future Chief's" and "New Chief's" Seminars, and the 16th Session of the New Jersey State Association of Chiefs of Police "Executive Institute".
Chief Touchberry is adjunct faculty at the Florida Institute of Technology in Melbourne and is the primary Ethics Instructor for that institutions Baccalaureate Criminal Justice degree program, online. He is also adjunct faculty at Indian River State College in Ft. Pierce where he teaches an advanced course in ethics to certified law enforcement officers.
Chief Touchberry has the following professional affiliations: Chairman, FDLE Region XI Training Council (Indian River State College), Member, Florida Police Chiefs Association, Member, and past Chairman, Professional Standards Committee, Florida Police Chiefs Association, Member, Legislative Committee, Florida Police Chief's Association, Member and past President, Treasure Coast Police Chief's and Sheriff's Association, Member and past Chairman, Executive Roundtable of Indian River County, Member and co-founder, Fellsmere Action Community Team (F.A.C.T.), Member, Moonshot, Community Action Network of the Learning Alliance "Moonshot Moment" (Indian River County)., Mentor, Big Brothers Big Sisters of America
Fellsmere Police Department
Phone: (772) 646-6310