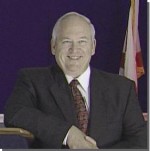 The Florida Police Chiefs Association established the Police Officer of the Year Award in 1998 to recognize police officers who have demonstrated exceptional achievement and shown a genuine commitment to their profession, their agency and the public they serve.
On January 11, 2001 the Board of Directors unanimously approved a proposal to honor the memory of Lee McGehee who passed away on September 19, 2000, by naming the Police Officer of the Year Award after him. Subsequently, on June 10, 2001, thanks to the support from Unisys Corporation, the Board decided to expand the scope of the program to recognize an Officer of the Year from small (1 – 30 sworn officers), medium (31 – 75 sworn officers) and large (more than 75 sworn officers) size agencies.
With the passing of Director Lee McGehee, law enforcement lost a visionary who made a significant difference not only as a police practitioner but an educator who had a passion and talent for developing and preparing future police leaders.
A native Floridian, Lee, was born and educated in Ocala, Florida. He began his career in law enforcement, which spanned nearly 43 years, as a high school student working part time with the Marion County Sheriff's Office. At the time of his death, Lee McGehee was the Director of the Florida Criminal Justice Executive Institute. He accepted the position within the Florida Department of Law Enforcement in 1995, after retiring as Chief of Police for the City of Ocala having served in that position for 21 years. Prior to his tenure as Chief of Police, he served as Director of Administration for the St. Petersburg Police Department and Director of Planning for the Pinellas County Sheriff's Office. His law enforcement career also includes service as an Ocala police officer from 1965-1967.
Director Lee McGehee was an accomplished academician. He earned a Bachelor of Science degree in Criminology from Florida State University and a Master of Public Administration degree from the University of Georgia. He also completed portions of a Doctoral program in Public Administration, and attended the University of Florida College of Law. He served as a member of the faculty of the University of Georgia's Institute of Government, as an instructor in Police Administration for St. Petersburg Junior College and as an adjunct professor at Rollins College and the University of Central Florida.
A Life Member of the Florida Police Chiefs Association, Director McGehee served as President from 1989-1990 and as the Association's Parliamentarian. Lee was also active in his community and his church. He served on the Board of Directors for the Ocala-Marion County Chamber of Commerce, Historical Ocala Preservation Society, Ocala United Way, Boy's Club of Ocala and the Marion County Association for Retarded Citizens. He was also involved as a member of the First Baptist Church of Ocala, taught Sunday school, held the position of Deacon, Training Director, and served on the Personnel and Budget Commission. He was a former Chairman of the State Board of Missions, Commissioner of Christian Life Commission, and Vice President of the Florida Baptist Convention.