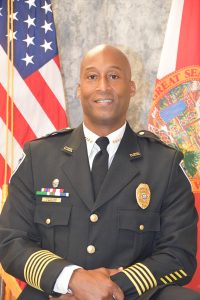 Chief Charles "Chuck" Broadway was born and raised on Long Island New York. He graduated from St John's University in Queens N.Y with a Bachelor of Science Degree in Business Management. Chief Broadway is also a four-year collegiate athlete whereas he played on the football team for St John's University.
A 23-year veteran of law enforcement, Chief Broadway began his career with the New York City Police Department, where he was appointed a Detective. Subsequent to the terrorist attacks on the World Trade Center on Sept. 11, 2001, he responded to Ground Zero and assisted with the search and recovery efforts.
In 2002, Chief Broadway relocated to Florida to be closer to his family and worked for the Gainesville Police Department where he also served as a Detective.
In 2004 Chief Broadway continued to advance in his career in Law Enforcement and was hired by the Florida Department of Law Enforcement as a Special Agent where he investigated multi-jurisdictional violent crimes, conducted complex narcotic investigations, human trafficking investigations and gang investigations. Chief Broadway was then promoted to a Special Agent Supervisor, overseeing several investigative functions and state initiatives. He later was chosen to oversee the highly regarded Public Integrity Unit at the agency, which encompassed investigations of alleged misconduct of public officials and all Police Officer involved shootings in the Central Florida region.
Chief Broadway joined the Clermont Police Department in 2010 as a Captain for the Patrol Division. In July 31, 2012, he was assigned the Interim Chief of Police and was then appointed the Chief of Police on Dec. 11, 2012.
Chief Broadway is the first ever African American Chief of Police for the Clermont Police Department and in all of south lake county.
Chief Broadway is a member of the Florida Police Chief's Association, the International Association of Chiefs of Police and the International Police Association. Chief Broadway is the past President for the West Central Florida Police Chiefs Association and is the Regional Director for the Florida Police Chiefs Association.
Chief Broadway is a board member for the South Lake Live Well Foundation, a member of the Kiwanis Club of Clermont and sits on the University of Central Florida- South Lake Community Advisory Council. Chief Broadway is the past President of the Florida Criminal Justice Executive Institute.
Chief Broadway has been married to his wife Dana for over 20 years and they have four children together. Chief Broadway and his family are members of Real Life Christian Church in Clermont, Florida