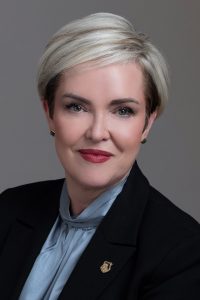 Hi, I'm Jennifer but I go by "Cookie," and I am the Executive Director for the Florida Police Chiefs Association. I joined the FPCA family in March 2021 serving first as the Deputy Director and then becoming the Executive Director in July 2021.
As the Executive Director, I oversee the strategic vision and overall operations of both the FPCA as well as the Florida Police Chiefs Education and Research Foundation.  As the ED, I focus on policy development, budget and fundraising, Legislative and Cabinet affairs, training and new initiatives that can assist in the professional development and overall growth of our membership.  I enjoy working with the small but mighty team at FPCA and I'm proud of all that we accomplish. We have big plans for our future and the development of further benefits for our members. It's important to me that the reputation of the Association is synonymous with integrity and unparalleled services and that the public knows how they can support our heroes in blue by supporting FPCA.
I retired from the Florida Department of Law Enforcement as the Assistant Commissioner, and I would not trade a minute of the past 30 years I have spent as a law enforcement officer.  My love and passion for my family in blue (and green, and black and brown) is what drives me daily.  My non-LEO family is my joy; we love spending time swimming and going to the beaches, water parks, and zoos across the great State of Florida.  Since my youngest daughter's diagnosis, I have been an advocate for autism awareness, acceptance and inclusion.  I currently volunteer for the Impact Academy Board of Tallahassee.