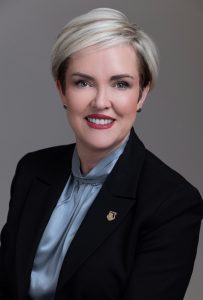 A graduate of Miami Killian Senior High School and the University of Florida, Executive Director Jennifer "Cookie" Pritt began her career with the University of Florida Police Department where she served in Patrol and on assignments to the city/county Special Investigations Unit as well as serving as a DARE officer for one year. She then moved on to work as an Investigator for the Office of the State Attorney, Eighth Judicial Circuit, working undercover narcotics on the Drug Enforcement Administration Task Force.
After completing her master's degree, Director Pritt moved to Tallahassee and began working at the Florida Department of Law Enforcement as a Special Agent within the Office of Executive Investigations. During her FDLE career she worked in protective operations, public corruption, fraud, drugs/violent crime/domestic security intelligence, training, professionalism, and criminal justice information services. She has served as a Special Agent Supervisor, Assistant Special Agent in Charge, Florida Fusion Center Director, Criminal Justice Professionalism Director, and Criminal Justice Information Services Director.  Her last six years with FDLE was in the position of Assistant Commissioner.
Cookie began working for the Florida Police Chiefs Association as the Deputy Director in March 2021 after retiring from FDLE. In July, she became the Executive Director.
Florida Police Chiefs Association
Phone: (850) 219-3631