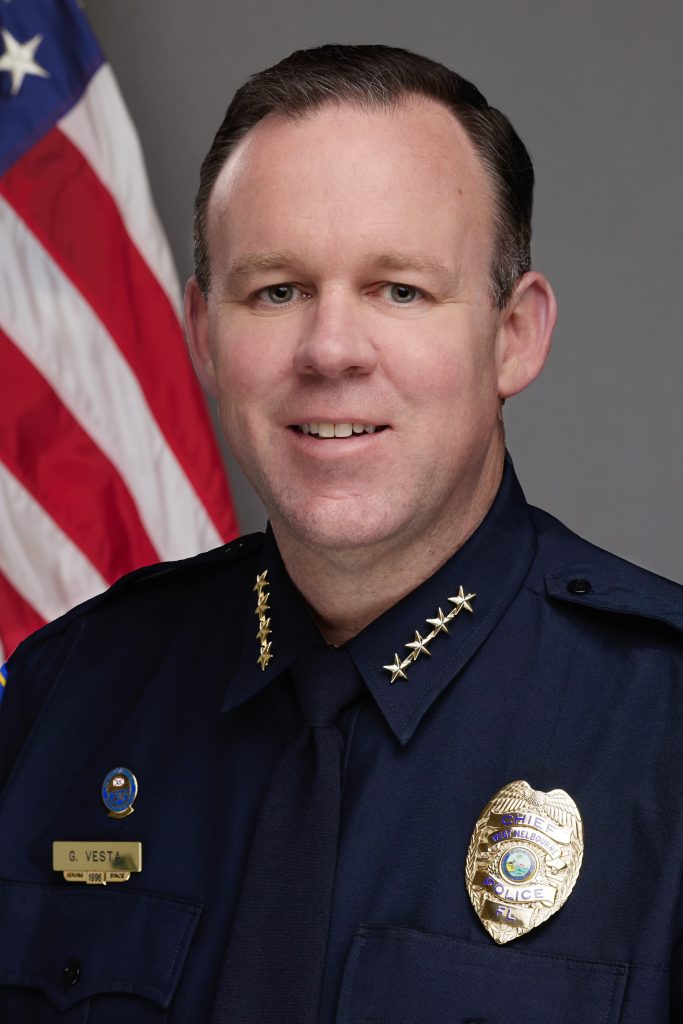 Chief Greg Vesta began his law enforcement career in 1996 with the Wood Dale, Illinois Police Department.  During his 26 years with the agency, he served in a variety of roles, including Patrol Officer, Sergeant, Deputy Chief, and Chief of Police for 11 years.  He was the department's first reaccreditation manager, and had a number of specialties including firearms instructor, baton instructor, field training officer, crisis intervention team member, along with extensive incident command system training.  He was sworn in as the Chief of Police for the West Melbourne Police Department in 2022.
During his career, Greg implemented or expanded numerous community programs, including Seniors And Law enforcement Together, bike patrol programs, Coffee with a Cop, Adopt-a-Family Thanksgiving dinners, Shop with a Cop, Bike with a Cop, National Night out that received several nationwide awards, community fraud prevention seminars, educational evenings for parents regarding the dangers of heroin, school safety presentations for parents, and numerous other programs.
Chief Vesta has been involved in the community and other professional organizations, including as a member of the Family Shelter Service board, Metropolitan Family Services board, and as a member of the Heroin Prevention Taskforce.  He also served several years as a member of the DuPage Chiefs of Police Executive Board, and was elected as the President of the organization in 2019.
Chief Vesta holds a bachelor's Degree in Criminal Justice Administration and is completing his Master's Degree in Public Administration.  He is also a graduate of the FBI National Academy Session #240 and the Northwestern School of Police Staff & Command Class #199.
Chief Vesta is an active member of the Brevard Association of Chiefs of Police, Florida Police Chiefs Association, the FBI National Academy Associates and the International Association of Chiefs of Police.
West Melbourne Police Department
Phone: (321) 723-9673
COUNTIES: Brevard