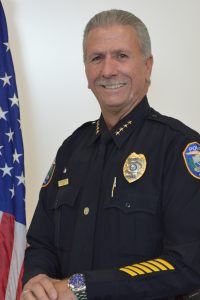 Chief Larry D. Krantz is a lifelong resident of Central Florida and is the proud father of 2 sons who both serve their communities as first responders. Chief Krantz has over 37 years of law enforcement experience and has served as the Casselberry Police Chief for 7 years.  Chief Krantz also served honorably in the U.S. Army Military Police Corps prior to becoming a law enforcement officer.
Chief Krantz earned his Bachelor's degree in Organizational Leadership/Criminal Justice Administration and is a proud member of the Florida Police Chiefs' Association and the International Association of Chiefs of Police.  Chief Krantz has held many leadership positions to include serving as the Treasurer, Secretary, Vice President and President of the Central Florida Criminal Justice Association.
Chief Krantz is grateful for the opportunity to serve his community and for the blessings he has been given in life.
Casselberry Police Department
Phone: (407) 262-7616
COUNTIES: Orange, Seminole, Osceola