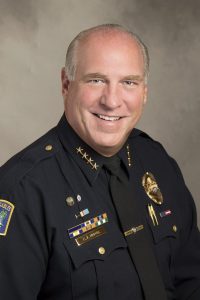 Chief Hudak came to Miami from his hometown of Pennsylvania on a football scholarship to play for the University of Miami. His commitment to the University and its athletes has led to a unique role for the past 30 years as both a mentor and security advisor for the University of Miami Athletic Department. He started and continues to mentor young athletes on social issues, particularly interactions with police.
He has given presentations to several college athletic programs and continues with work with many NFL, MLB and NBA alumni and current athletes. He was honored for his dedication and commitment by receiving the University of Miami Hall of Fame President's Award for Service. He is a member of Iron Arrow, the highest honor bestowed on any student or Alumni of the University of Miami
Chief Hudak is a graduate of the University of Miami with both a Bachelor's Degree and a Master's Degree in the Arts. He lives in Miami, Florida with his wife of 28 years and two daughters. He is an active community volunteer and participates actively in his parish, and many other community organizations.
Coral Gables Police Department
Phone: (305) 460-5418
COUNTIES: Miami-Dade, Monroe