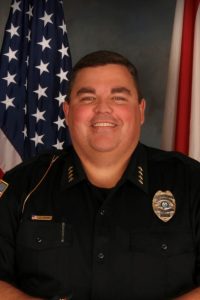 James N. Cruse Jr. "Jamie", has nearly than 30 years of Law Enforcement experience serving. Chief Cruse served 22 years in Law Enforcement before becoming Chief of the Perry Police Department in 2015. He served briefly as a Deputy Sheriff prior to his employment with the Perry Police Department in 1994. Chief Cruse has risen through the ranks of the Perry Police Department serving in many roles to include: Patrol Officer, Field Training Officer, Traffic Homicide Investigator, Sergeant, Lieutenant, training coordinator, Academy Instructor and Captain. He has held the position of Chief of Police for 7 years.
A native Floridian, Chief Cruse was born in Perry, Florida and raised in many locations throughout the United States as his father served in the U.S. Military. Chief Cruse has three sons, two are currently serving in the US Army and one is a former Marine. He has been married for 25 years to his wonderful wife Stacey.
Chief Cruse is a member of the FPCA Board of Directors, the President of the 3rd Judicial Circuit Chief's and Sheriff's Association, IACP, Executive Board Member for the Boys and Girls Clubs of North Central Florida and many other Civic and local associations.
Perry Police Department
Phone:  (850) 584-5121
COUNTIES: Columbia, Madison, Taylor, Dixie, Lafayette, Suwannee, Hamilton