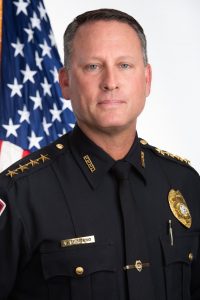 Chief Kipp Shimpeno became the Chief of the Pembroke Pines Police Department in January of 2019 and has served with the department for over 27 years.  The department is composed of over 400 sworn and civilian employees and provides service to over 172,000 residents in southeastern Florida.  Prior to joining the department, Chief Shimpeno earned a Bachelor's degree from Florida State University.
Chief Shimpeno is a member of the International Chiefs of Police Association and currently serves on the Executive Board of the Broward County Chiefs of Police Association.
Throughout his career he has completed numerous leadership courses through such organizations as the International Chiefs of Police Association, the Florida Police Chiefs Association, the Federal Bureau of Investigation, the Florida Department of Law Enforcement, the National Tactical Officers Association, and others.
Pembroke Pines Police Department
Phone: (954) 436-3200
COUNTIES: Broward