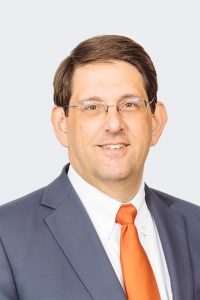 David Marsey represents clients in constitutional, employment, casualty litigation and appeals. He defends state and local government agencies and law enforcement officers against allegations of civil rights and tort violations including general negligence, negligent hiring or retention, vehicle liability and pursuits, false arrest, improper use of force, in-custody and other wrongful deaths.  David also handles the litigation of qualified and sovereign immunities.
Having previously served as a sworn officer, investigator and law enforcement instructor, David incorporates his training and experience in the areas of death, injury, property and traffic accident investigations for his clients. Prior to private practice, he served as a state prosecutor with extensive trial experience, and successfully tried felony crimes up to and including homicide, as well as law enforcement liability cases involving the use of the baton, Taser and the discharge of firearms resulting in death. He serves as a General Counsel to the Florida Police Chiefs Association.
With his background in constitutional law, David also represents school districts against alleged violations of the Free Exercise and Establishment Clauses of the First Amendment. He has successfully guided Districts in the development of policies and procedures that comply with constitutional requirements and in the resolution of litigation regarding First Amendment violations.
David also defends public and private employers against claims of employment discrimination such as race, color, religion, gender, national origin, age, sex, marital status, disability and retaliation. He provides legal assistance to employers through consultation on personnel and management issues as well as the development and implementation of policies and procedures. David incorporates his significant investigative experience by conducting internal investigations including the preparation of responses to employment discrimination charges filed with the Florida Commission on Human Relations and the Equal Employment Opportunity Commission. His jury trial experience includes the successful defense of discrimination and retaliation claims.
He also represents clients against claims involving premises liability, general negligence, vehicle liability and other tort claims. While serving as a prosecutor, he obtained significant experience litigating traffic accidents involving impaired drivers causing death and serious bodily injury. He continues to utilize his law enforcement and prosecutorial skills in the defense of clients accused of vehicular negligence.