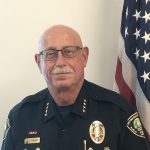 Director Stephan Dembinsky was born and raised in northern Canada, and moved to Hollywood, Florida when he was sixteen.  He attended Florida International University and graduated in 1977. He began his law enforcement career right after college in Dade County, and retired from the City of North Miami Beach in 1998.  For the past twenty-one years, Director Dembinsky has been the Public Safety Director for the City of Daytona Beach Shores.
Director Dembinsky has been married to Sandi for over 40 years, and has two stepsons, Adam and David Steinman. His grandson Brandon is a senior at the University of Florida, and of course now Director Dembinsky is a true Gator.
Director Dembinsky is a proud lifetime member of FPCA and IACP and is honored to have been elected to the FPCA Executive Board as 2nd Vice President.
Director Dembinsky has been fortunate to have worked with and for many great leaders and attributes his success to their great mentorship.