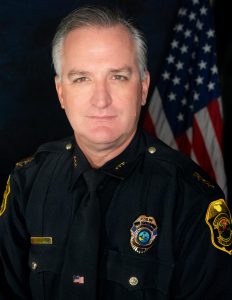 A graduate of Largo High School and the University of South Florida, Chief Daniel Slaughter began his career with the Clearwater Police Department in October 1992. Promoted to sergeant in 2000,
Chief Slaughter served in a variety of assignments, including as the department's accreditation manager, successfully gaining re-accreditation status for the department in June 2007.
In 2009, Chief Slaughter was promoted to lieutenant and was assigned to command the Special Operations Section. As part of that assignment, he managed the public safety planning related to special events within the city of Clearwater that included the Iron-man event, filming of the first Dolphin Tale movie, the Clearwater Jazz Holiday, Fun 'n Sun concerts and the Clearwater Celebrates America July 4th fireworks event.
In 2012, he was promoted to major and assigned to the Patrol Division, responsible for the deployment and management of the 24-hour uniform operations and the budget for the department's largest division.
On Aug. 7, 2014, he was sworn in as the Clearwater Police Department's 13th chief of police, commanding the third-largest law enforcement agency in Pinellas County. In partnership with faith-based leaders and social service providers, Chief Slaughter formed the Refuse to Lose Program which connects chronic juvenile offenders and their families with resources and support to prevent recidivism.
Chief Slaughter serves as the Parliamentarian for the Florida Police Chiefs Association. He is an active board member for the Police Executive Research Forum, Clearwater for Youth and Directions for Living. He is past president for the Tampa Bay Area Chiefs of Police Association and a board member on the Tampa Bay Area Chiefs of Police Research and Education Foundation.