The Florida Police Chiefs Association is the first state police chiefs association to endorse the AC4P Policing program.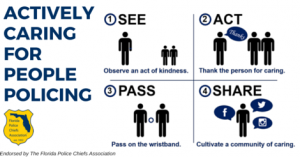 Actively Caring for People (AC4P) Policing endeavors to build positive police-community relations by recognizing and rewarding of good citizen behavior. The program uses wristbands to increase focus on positive action.
The program began as a way for schools to promote good behavior and instill a sense of solidarity after tragedy. However, it has spread to the general public, and now Police Departments, as a way to create a "pay it forward" mentality.
How it Works
When officers see citizens helping someone else, they present them with a wristband and share the story through social media channels. The recipient of the armband is then encouraged to look for other positive community behaviors and similarly share the armband and the story.  The process, "See, Act, Pass, Share" encourages positive consequences and collaborative interactions between citizens and officers.
To join the movement, the only cost is that of the wristbands, the program is designed to be self-sustaining and grow organically. Order by contacting Sharon Caughlin at sharon@solveviolence.com.
Or to find our more about the program contact:
Bobby Kipper
Executive Director
National Center for the Prevention of Community Violence
757-870-7551
bobbykipper@solveviolence.com
Next Scheduled Training
Thursday, April 27, 2017, 8:00am – 12:00pm
Coconut Creek Community Center
Meeting Room B-105
1100 Lyons Road, Coconut Creek, FL
To register, download the attached form and email to Sharon Caughlin at sharon@solveviolence.com
Deadline to register – April 17, 2017
Coral Springs Police Department
Davenport Police Department
Eustis Police Department
Gainesville Police Department
Oviedo Police Department
Ponce-Inlet Police Department
Rockledge Police Department
Vero Beach Police Department
Winter Park Police Department