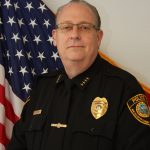 Chief Michael Kessie is a native of Chicago, Illinois, and began his police career in 1979 at the Schererville, Indiana Police Department in Northwest Indiana.  Kessie served as a Patrol Officer, Sergeant, Detective Lieutenant, Assistant Chief and other positions before retiring as Deputy Chief of Operations after 22 years of service.  After moving to Florida, Kessie worked for the Manatee County Sheriff's Office and the Campus Police Department.  While at the Campus Police Department, Kessie was a Patrol Officer, Patrol Lieutenant and then became Chief of Police in 2013.
The Campus Police Department provides police services to New College of Florida and the University of South Florida Sarasota-Manatee campus.
Kessie holds a degree from Indiana University and attended Command Officer Development School at the Southern Police Institute.  Kessie also attended the Institute of Police Technical Management – Fiscal Management for Law Enforcement, Police Executive Development, and Developing Law Enforcement Managers.
Kessie joined the Florida Police Chiefs Association in 2013 and represented the FPCA on the Florida Department of Health's first 911 Telecommunications test-making group.  Before becoming 3rd Vice President of the FPCA in 2019, Kessie served as District One Director after serving as the alternate director and chaired the University/Education Chiefs Committee.  Kessie is also currently the chairperson of the Suncoast Technical College Law Enforcement Academy Advisory Board in Sarasota, Florida.
.