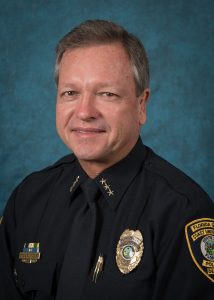 Chief Steven Moore began his career at Naples Police Department in 1983 after graduating with a B.A. in Criminal Justice from the University of Maryland.
Chief Moore  worked his way through the ranks with assignments as a Burglary Detective, Patrol Sergeant, Narcotics Supervisor, Patrol Lt., Capt of Criminal Investigations, Commander of Police Operations, and in 1999 became Chief at Naples.  During this time, Chief Moore also obtained his MBA from University of South Florida in 1990 and graduated from the 187th class of the FBI National Academy in 1996.
After 23 years with Naples, Chief Moore retired in 2006 to assume the position of Chief of Police at Florida Gulf Coast University, where he has been for 13 years.
In addition to numerous boards and committees the Chief has served on, he is past president of the SW Florida Police Chiefs Association and is currently serving as Secretary Treasurer on the Executive Board of the Florida Police Chiefs Association.