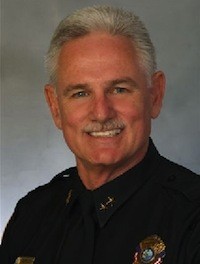 Director Paul F. Sireci served as President of the Florida Police Chiefs Association 2011/2012. He represented the Florida Police Chiefs as a Commissioner for the Florida Supreme Court's Innocence Commission and as the Intelligence Committee Chair of the Florida Domestic Security Task Force. He received the Florida Police Chiefs Association Directors Choice Award in 2010 and 2011. Chief Sireci is a Life Member of the International Association of Chiefs of Police.
Chief Sireci holds a Bachelor of Arts degree from the University of South Florida, where he was on the Dean's List, and a Master of Business Administration from Nova University, also receiving Nova's Academic Excellence Award.  He is a graduate of the FBI National Academy, 146th Session, the FBI Law Enforcement Executive Development School, 40th Session, and the US Army Dignitary Protection School.
He began his law enforcement career in 1973 with the City of Naples Police Department, where he received the agency's Medal of Valor.  He became active in the Florida Police Chiefs Association in 1992, co-chairing the 1993 Summer Conference Committee.
In 1995, after reaching the rank of Captain, he left the City of Naples and took a position as Chief of Public Safety with the Memphis International Airport.  He became a member of the Metropolitan Memphis Association of Chiefs of Police and was elected President of that Association in 2000.
Chief Sireci returned to Florida in 2002, becoming the Chief of Police for the Tampa International Airport Police Department. That position was assigned additional responsibilities and departments and a new title of Director of Public Safety and Security in 2013. He was elected President of the Tampa Bay Area Chiefs of Police Association in 2006. In 2012 The Tampa Bay Area Chiefs of Police Association awarded him the "Leadership Award". Prior to being elected 3rd Vice President, Chief Sireci served as District 15 Director and Legislative Committee Chair.