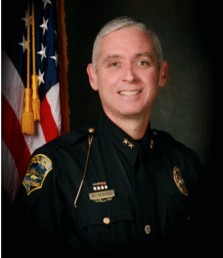 Chief Ken Albano began his law enforcement career in 1982 as a Military Police Officer with the 82nd Airborne Division while serving in the US Army stationed at Fort Bragg, NC.
In February 1988, Chief Albano was hired by the Plant City Police Department.  While at Plant City, he held various positions including Officer, Street Crimes Detective, Criminal Investigations Detective, Patrol Sergeant, and Captain.  As a Captain, he served as the Commander of Administrative Services, Criminal Investigations, and as the Department's First Accreditation Manager.
He retired from the Plant City Police Department in April 2006 with 20 years of credited service in order to join the Temple Terrace Police Department as the Commander of the Patrol Division. Since that time, Chief Albano also served as the Commander of the Criminal Investigations Division, Special Weapons and Tactics Team (S.W.A.T.), Crisis Response Team and Training Unit.
Chief Albano was appointed as Chief of Police in December 2008 and currently has over thirty two (32) years of law enforcement experience.
In addition to his role as the President of the Florida Police Chiefs Association, Chief Albano currently serves as a Trustee of the Florida Police Chiefs Association's Education and Research Foundation, a member of the Tampa Bay Area Chiefs of Police Association Board of Directors, Vice Chair of Safe & Sound Hillsborough, Member of the FBI Joint Terrorism Task Force Executive Board for the Tampa Region and as the President of DUI Counterattack of Hillsborough, Inc.
Chief Albano received a Master of Science Degree from Nova Southeastern University in Criminal Justice with a specialization in Public Administration.
Chief Albano is married to his wife of thirty (30) years, Judy.