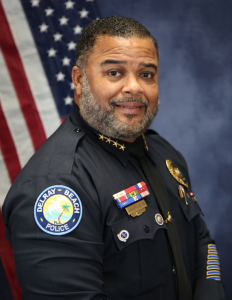 DBPD Police Chief Javaro Sims was born in the City of Boynton Beach, Florida. He is a graduate of Lake Worth Community High School, Florida Agricultural and Mechanical University (FAMU) in Tallahassee, where he obtained a Bachelor
of Science degree in Physical Education and Parks and Recreation. Chief Sims earned a Master of Science degree in Criminal Justice Administration at Lynn University in Boca Raton. He also graduated from the FBI National Academy's 255th Session, University of VA., in Quantico, VA. Chief Sims attended Future Law Enforcement Executives, Future Police Chiefs, Senior Management Institute for Police Executive Senior Management Research Forum, and the Southern Police Institute (University of Louisville).
Chief Sims' professional affiliations include the FBI National Academy Associates, Palm Beach County Police Chiefs Association, the Florida Police Chiefs Association (FPCA), the National Organization of Black Law Enforcement Executives (NOBLE), the International Association of Chiefs of Police (IACP), the Sunrise Rotary, the Knights of Pythagoras Mentoring Network (KOPMN), Boys to Men Mentoring and Omega Psi Phi Fraternity.
Chief Sims is very active in the Delray Beach community, especially with young people. He lives by the words his parents instilled in him: "A legacy is about what you do for others and not what you do for yourself" and "Be the author of your own book of life." In 1980 and 1984, Chief Sims qualified for the Olympic Trials. He also played football in the Canadian Professional Football League (CFL) for two years. After graduating from college, Sims worked as a schoolteacher for four years. In his final year as a schoolteacher, he applied for a law enforcement officer position in Delray Beach and was hired in 1992. His career at the police department includes sergeant in the Community Policing and Street-Level Narcotics units and Community Patrol Division, lieutenant in the West Atlantic Avenue Task Force Section and commander of the Community Response, Criminal investigative, Support Services and Community Patrol Divisions.