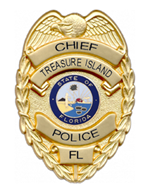 The City of Treasure Island, Florida is seeking a Chief of Police. Treasure Island is a slice of paradise, a beachside community located on the Gulf of Mexico.  The City has about 6,800 full time residents and as many as 20,000 during the peak season.
The Treasure Island Police Department is a progressive and professional agency with 19 sworn officers plus four support staff which includes Parking Enforcement, Records and Property/Evidence Management.  The ideal candidate will understand and look forward to what serving as the Police Chief of the City of Treasure Island is all about. They will embrace the aspects of a small city that is intimately connected to their Police Department especially their Chief.  Since tourism significantly increases the city's population during half of the year, the community has come to appreciate and want the involvement of their Police Department, in particular their Police Chief.  The ideal candidate will be expected to participate and be comfortable attending events and meetings of a number of civic and non-profit organizations throughout the year.
For complete information about the position please click HERE.
To apply, please forward a cover letter and resume ONLY to:
The Florida Police Chiefs STARS Program via email to: stars@fpca.com no later than midnight December 20, 2019.
Please be aware that Florida has a very broad public records law.  Applying may be subject to Florida Statute Chapter 119.
If you have any questions regarding this search, please forward to stars@fpca.com.