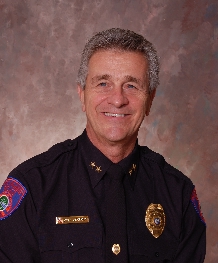 Chief Gerald M. Monahan, Jr. retired from the Port Orange Police Department on December 1, 2015 after a 44 year career as a law enforcement officer in Pennsylvania and Florida. During his retirement, he has worked as a consultant for the Florida Police Chiefs Association STARS program assisting in the vetting of candidates for Florida police chief positions.
On April 12, 2018 he was sworn in as Chief of Police of the South Daytona Police Department where he will serve until a new City Manager is selected in June of 2019 at which time he will assist in the hiring process and transition for the new police chief.
He began his career in 1971 in Allentown, Pennsylvania and retired there as Chief of Police after 28½ years of service. In 1999, Chief Monahan was hired as the Chief of Police for the City of Port Orange and has also served as Director of Public Safety there over both Police and Fire Operations from 2011 to 2013.
He is a graduate of the 120th Session of the FBI National Academy, the 38th Session of the FBI Law Enforcement Executive Development Seminar and holds a Master of Arts Degree in Political Science from Kutztown University.
In 2003, he received a gubernatorial appointment to the Florida Criminal Justice Standards and Training Commission and served in that capacity for eight years. He was elected President of the Volusia-Flagler Police Chiefs Association from 2005 to 2006 and elected President of the Florida Police Chiefs Association from 2008-09 further serving as FPCA Past President at Large from 2012 to 2015 and again in 2017 and 2018.
Chief Monahan was selected as a member of the Florida Statewide Human Trafficking Task Force from 2010 to 2011 and Florida's Law Enforcement Consolidation Task Force from 2011 to 2012.  He also served as a Trustee for the Florida Police Chiefs Association's Education and Research Foundation from 2008 to 2013 and Foundation President from 2013 to 2015.
Chief Monahan is a life member of the International Association of Chiefs of Police, the Florida Police Chiefs Association, the Pennsylvania Chiefs of Police Association and the Volusia Flagler Police Chiefs Association. He is also a former member of the Daytona State College Criminal Justice Advisory Council.